Cerec 3D Technology - Leading Edge Dentistry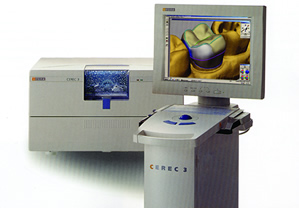 Technology today is changing our everyday lives. Many people, however, aren't aware that technology also is impacting dentistry in new and exciting ways. Cutting-edge innovations in dental instruments are requiring less time in the dental chair, causing less discomfort and creating satisfying results. One breakthrough instrument, called CEREC, allows dentists to quickly restore damaged teeth with natural-colored ceramic fillings, saving patients time and inconvenience.

What is CEREC?
CEREC literally stands for Chairside Economical Restoration of Esthetic Ceramics. That means: CEREC is an in-office restoration system that allows our team to complete the entire dental process in just one visit. Using a computer assisted design and manufacture (CAD/CAM). Rather then waiting for a custom restoration from a dental lab, the CEREC system mills the restoration right in our office for optimal patient convenience.
How does CEREC Work?
Traditional dental crowns are placed over the course of two visits. During the first visit, we prepare the tooth, capture bite impressions, and place a temporary crown, We send the bite impressions to a dental lab where the custom crown is made, and patients return to the office, for the custom restoration to be placed. THe entire process typically takes two or more weeks to complete. CEREC is done in just one visit. NO need for the dental lab. Instead we take digital impressions and immediately transfer to our in-office milling unit where the custom crown is crafted from a single block of ceramic. Patients with damaged teeth leave wthe office with a flawless smile in just one appointment.
What are the Benefits of CEREC restoration?
Time - The biggest benefit. Treamtment process to a single visit.
Conservative Treatment - Less risk for additional damage which may occur due to this exchange of restorations.
Quality - CEREC uses high quality ceramic materials to craft custom crowns that are durable and look completely natural
Comfort - One visit verses multiple. our goal to make dental care simpler for every patient.