Crowns and conventional bridges or dentures may not be your only options when replacing missing teeth. For some people, dental implants offer a smile that looks and feels very natural. Surgically placed below the gums over a series of appointments, implants fuse to the jawbone and serve as a base for individual replacement teeth, bridges or a denture.
Implants offer stability because they fuse to your bone. Integration of the implants into your jaw also helps your replacement teeth feel more natural and some people also find the secure fit more comfortable than conventional substitutes.
Candidates for dental implants need to have healthy gums and adequate bone to support the implant. A thorough evaluation by your dentist will help determine whether you are a good candidate for dental implants.
---
Single Tooth Implants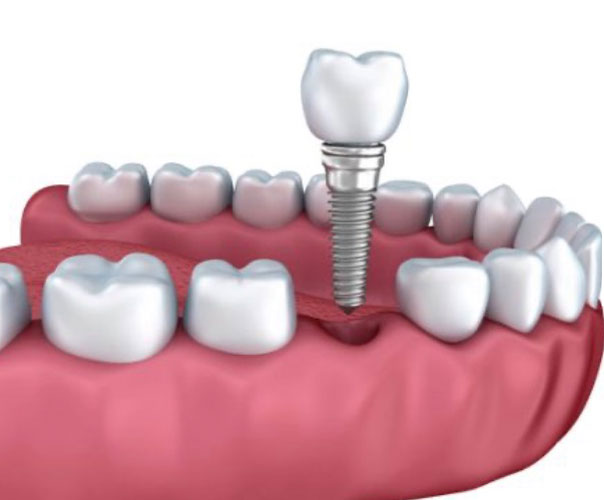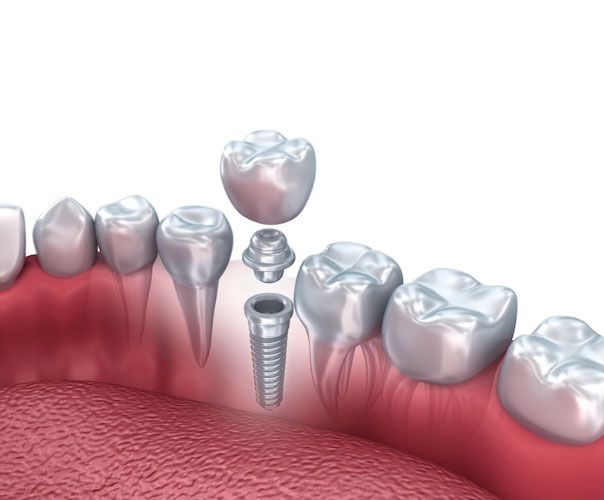 What is a Dental Implant?
Dental Implant is made of titanium post, abutment and a dental crown.
How long is the Dental Implant process?
Dental implants can take approximately 3-9 months. Every case is individual based, but after the impant is placed there is a required healing time of 3-6 months. Once that is completed, an abutment will be attached to each implant and a brief healing time will follow. The final visit, and the crown is attached for final restoration.
Can I use my existing Dentures?
This is a wonderful option, to secure your implants, for better chewing and eating and all round nutrition.
Do I Qualify for Dental Implants?
Free Consultation for Dental Implants. Contact our office to make your consultation.
---
Implant Dentures
Problem
Ill fitting, loose dentures. While dentures that are loose and ill fitting make eating difficult, they can cause painful sore spots on the gums as they slide around while chewing.
Solution
An implant denture may be the answer. Usually two to four implants are surgically placed in the bone and become anchored as the bone heals and secures itself to the implant. This healing process takes about six months after which the dentist can begin constructing an implant denture. An implant denture is a removable denture with attachments on the underside that clip onto a bar connected to the implants. The attachments and bar hold the denture in place and keep it from moving when chewing and speaking. Implant dentures can be classified into two groups: Implant Retained Dentures and Implant Supported Dentures. Implant Retained Dentures are held in place by the attachments, but are mainly supported by the bone and gum tissue as is a conventional denture. Implant Supported Dentures are for patients who do not have sufficient bone and supporting gum tissue. This denture is mainly supported by the bar attached to the implants.
Alternatives
New dentures may be considered if the financial burden of dental implants is too great.